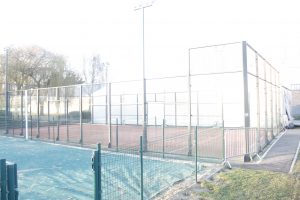 The Master'U are currently held in the league of Flanders in Marcq-en-Baroeul. Gautier Rigaut, head of the training center and Benoit Bonhoure, responsible for development are essential elements in the daily operation of this body.
"The departmental committee of the North is 198 clubs and nearly 30,000 licensed. Every year it contests with the Bouches du Rhone for the place of 1st French department in terms of licensees". These words of Gautier Rigaut summarize well the power of the northern tennis. Big names hit the ball at Marcq-en-Baroeul, thanks to an elaborate tracking process. One must have a certain level to play the league of Flanders as summarized the head of the training center: "our courts are reserved for the elites. Lucas Pouille trained here from 7 to 12 years. This is also the case of Kristina Mladenovic and Oceane Dodin. Besides, we participated in our way to the Davis Cup two years ago. Two of our courts were covered with clay and the French and Swiss teams trained here. "
But the role of the league does not summarize only to the detection of the future Yannick Noah or the future Amélie Mauresmo. Benoit Bonhoure works to improve the attractiveness of clubs. "We want to change mentalities by proposing new practices like Beach Tennis and the Padel (see photo), says the development manager. We help medium-sized clubs with between 100 and 200 licensees to professionalize. Finally, we try to work on the social dimension by encouraging practice in neighborhoods and developing access to the disabled. "
Other missions fall to the league as the training course for tennis teachers. The proceeding must also ensure that the leadership is supported. "Clubs are governed by the 1901 Act. Presidents are volunteers and have human resources and accounting issues to manage. They are offered training on these themes", recalls Gautier Rigaut. With such an organization and such infrastructure it is not surprising that the North has among its ranks world-class tennis players.