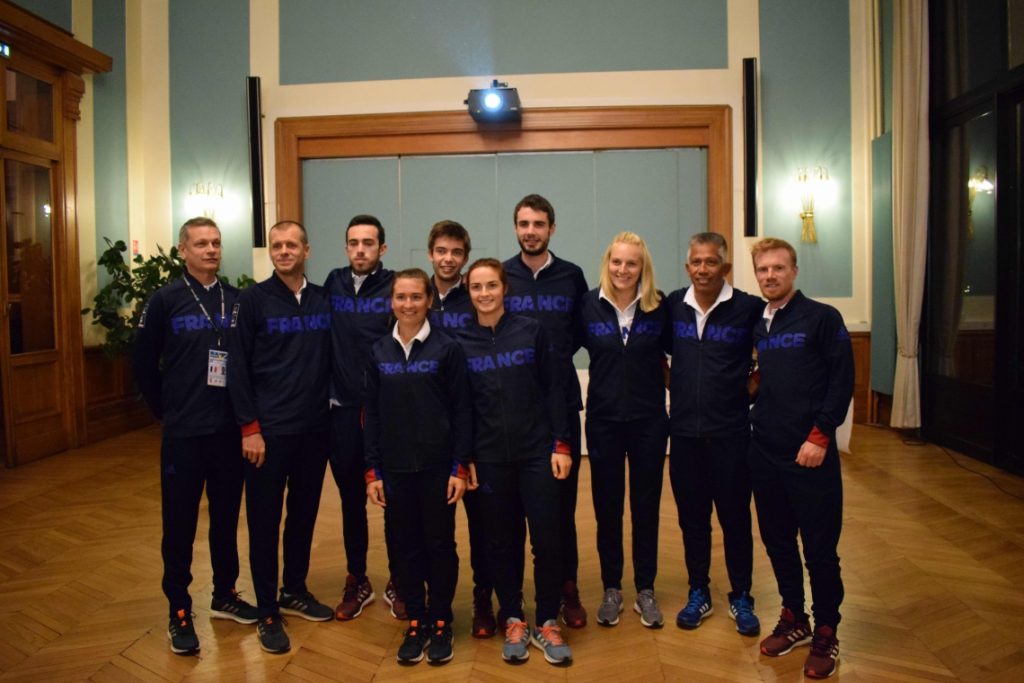 Eliminated by the United States in the first round, the France team is aiming for the fifth place of the Master U 'BNP Paribas. To revive, young tricolor rely on the cohesion of a group that is recently known. With success: Saturday, they beat Belgium.
"We will be motivated to get this fifth place," says Clemence Fayol, player of the France team. Despite an exit on the first day of competition, the girl of 23 years remains positive and advocates an impeccable group spirit: "Yesterday, it was complicated as defeat. But there was a great attitude from everyone, on and off the pitch. We are all together, it's nice to see. On the court, we need everyone to encourage us. Yesterday was really that. "On Friday, the Blues did not deserve by offering a very good resistance against the title holders Americans (4 games lost to 2).
Even if this defeat is tough for the lights, it does not ring the end of their competition. From this Saturday, they returned to the court for the ranking matches. With the same desire and determination. "It's frustrating not being able to play the final victory again this year. It's our role as coach to motivate the players, "certify the two coaches Jean-Marc Lagloire and Cyrille Monet. Louis Dussin, the youngest member of the group, does not want to stop there: "At the beginning, last night, nobody really spoke. But after the meal, we thought we had to continue to play the win, for fifth place. It is important. To finish eighth is the lose. We continue to fight together. Opposed to Belgium, the French showed a nice reaction by winning easily (4-0).
"We do everything together"
A victory of pride therefore for a group that has known for a short time. They met Wednesday, just two days before the tournament. "When we make our selections, the state of mind and behavior are important in our criteria," says Cyrille Monet. In a team competition, creating a united and tight group is the main goal of the coaches. "It's our role to create this dynamic. Players love to be on events like this, with a group spirit. We present the competition as a human adventure, "adds Jean-Marc Lagloire.
For players, knowing your partners in a very short time is a challenge, but one that needs to be taken up. "We all make efforts and concessions. We all got along very quickly. I did not know Louis (Dussin) and Clemence (Fayol) before. But I learned to know them. These are creams, "says Julien Eon. Before going on: "This morning, we could take different buses. But we wanted to leave together. We do everything together! "
Louis Dussin, 18, is the new kid of the group. In the company of people older than him, he integrated perfectly: "I knew only Alice (Bacquie). I am shy. I did not dare too much at first. But they are great so I did not have any problems with integration. It happened naturally. We got to know each other, and then we started laughing. "
Enjoy every moment
For the youngest of the group, the good atmosphere that prevails within the group is essential for performance: "I think that cohesion is very important. If it is not good, we will win less match. We want to surpass ourselves together, for France. "
But participating in the Master U 'BNP Paribas is also a real chance to live differently tennis: collectively. "This is my first time at Master U, I find the band great," says Mallorie Noël. These are rare moments in a year. We are so happy to be able to live them. " Even clemency for Clemence Fayol: "The collective, it misses in this sport. Just last week, I was in Egypt. I spent two weeks alone. Suddenly, we live these moments thoroughly. Wearing the jersey of France, it's amazing. And do it as a team, which is more mixed, it's super cool. I love the Master U for that! "
It remains a meeting with the French to finish in fifth place. Against Ireland, the Blues will again call for their cohesion to overthrow the Greens.
Théo DORANGEON