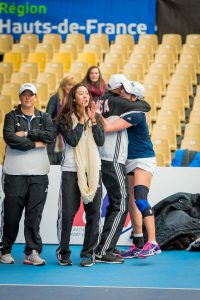 The American team is very heterogeneous. Players aged 18 to 21 from all across the country discover themselves for a three days tournament. Among them, Tom Fawcett, already of the party last year.
The scene is repeated tirelessly since the beginning of the weekend: at the end of the game, the whole team of the United States enters the court to congratulate the winning player (s). A scene of communion that pleases to see. All players share their happiness. Yet this cohesion that was built in less than a week: "I knew the boys by name, but not the girls, the team really built here," said Tom Fawcett. The doubles player is well placed to talk about his team. He was already part of the team that won last year. Not much to have a special role according to him, but a great pride to leave for a new French adventure: "It is a superb competition, I love the atmosphere. Coach Patton gives us the keys to progress every year, and it works. "
"Having a target behind us stimulates us"
It must be said that with five consecutive titles, the United States are the great favorites of the test. Their place in the final against Russia proves it. "This is not additional pressure, on the contrary, one is stimulated by this status of team to be defeated" analyzes the student of Stanford. But on a personal level, where is its progress? "I've worked a lot twice and I'm pretty happy with my progress in the game." More than experienced, the 21-year-old is the two-player specialist in this team. A role he takes very seriously. "It's a lot more energetic, it's very addictive. A suit that fits him well. On Saturday, his duo with Christopher Eubanks qualified the United States for the final.