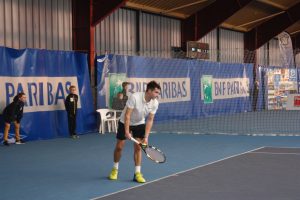 The 22-year-old Scotsman is participating for the first time in the Master U BNP Paribas. A unique experience for him, and the opportunity to show the full extent of his talent before the greatest nations of the world tennis.
Relaxed, lively and easygoing, Scott is the teammate who knows how to set the mood in a group. Proud and happy to defend the colors of his country, Duncan is a player who does not let go: "I take full advantage of this moment," he says with a smile. He's the image of his idol, world number one Andy Murray with whom the comparison is obvious. "I work hard and I fight on every point, I can also count on my forehand, my best weapon"
Like him, the British are ambitious, having eliminated the French yesterday, after a fierce battle (4-3) until the end of the night. "We had so much energy, it was a tough battle, there was 12 hours of match! The atmosphere was great, we are proud to have won. "
Feet on the ground
Student in Master 1 Sport and Psychology at the University of Stirling (Scotland), Scott Duncan has a sense of priorities. Between tennis and studies, the answer is clear: "I like what I do, my main goal is to finish my studies and then I will see for tennis. "
A line of conduct that the young man also applies to tennis. After his victory in the third game of the semifinals against Russia, his state of mind remains irreproachable: "I will do like my teammates who came to support me, I will be behind them to push them to give maximum With the objective of qualifying for the Grand Final.