The tournament umpire, who retired internationally in November, looks back on five tennis memorabilia.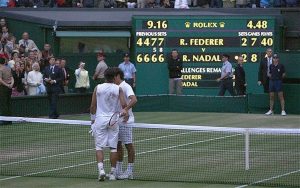 Wimbledon 2008: It's a pretty unforgettable moment when the King Roger loses on Rafa Nadal with a rather edifying score (score), the night, a mythical place. It remains for me an exceptional memory. It was an extremely hard match to referee: at night, the hawk-eye was not working on the last six games. You do not want to make a mistake that changes the outcome of this unique match. We are so demanding with the performance of the players that they force you to be demanding with yours. I went to bed at 6am so I had excitement. I knew it was a moment of historical sport. The next day, when you read the newspapers, they do not talk about arbitration. This is the best compliment we can do to a referee.
For the record, my wife is not a fan of tennis. She accompanies me sometimes but she does not come to the stadium. The referee has two tickets. This time, I convince my wife to come. At the end of the match, I tell him that there is no need to attend any other meeting. You saw the match of the century. So, she never came back.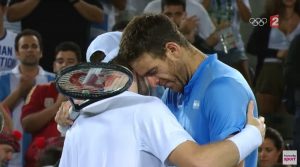 2016 Olympic Games: It was a dream to referee a final of the Olympic Games. I had already done it but never that of the simple gentlemen. Del Potro and Murray, I love these two guys. They are completely different but they deserve to be known. Murray, he has a huge heart. With Del Potro, we lived moments of history: semi-final in London against Federer, Davis Cup final in Seville. This finale is one of my fondest memories.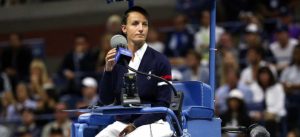 Eva Moore: It's great to have female referees in men's tennis. They have the same eyes, the same skills and are better in areas such as communication. Electronic refereeing has contributed a lot to this feminization in men's tennis which is very sexist. This arbitration shows that women are as good and even better than men. That's good: it allows us to question ourselves.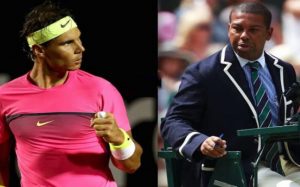 Nadal / Bernardes: Tennis is a huge caravan like the Tour De France, but on a worldwide scale. It's always the same group of people that are found all over the world. There are naturally some atoms hooked or not. Sometimes there is nothing in common. We all have a "blacklist" in which we put the players with whom we can not do it. This is true for the referees and surely for the players. But the last word is for the referee. Carlos had said it was better not to arbitrate Nadal for a few weeks to fade the controversy. It was an epiphenomenon.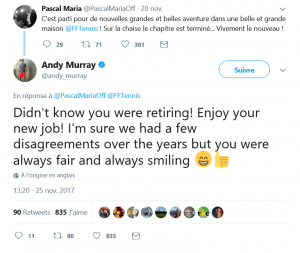 Tweet Andy Murray: That's nice, it's Andy. On the ground, he looks undrinkable, moody, cranky. But outside, he's an incredible guy, a hard worker. At each tournament, he financially supports a different foundation. He refuses to talk about it because he does it with pleasure and does not have the need and the desire to make it known.
Interview by Roxanne Lacuska, Théo Dorangeon and Thomas Ginesta