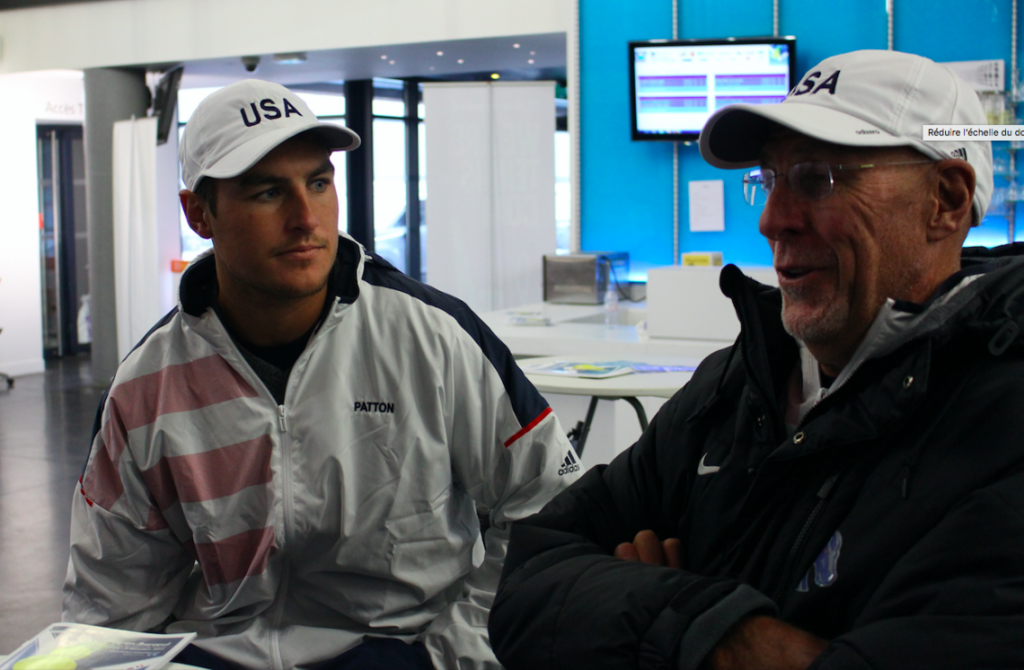 Greg Patton has been coaching the US team at Master'U BNP Paribas for eleven years. For this 2017 edition, his son Garrett accompanies him to learn the position of coach.
"It can annihilate or reunite a family. In our case, it brought us together. Tennis is our religion. Greg and Garrett Patton know what they need to play tennis. At the center of this passion: Christa Patton, Greg's wife and Garrett's mother. When they talk about it, the two look at each other. Like a sign of thanks. "She is very important in our balance. It makes a lot of things easier. She takes care of the details and takes care of us, "says the 25-year-old.
Tennis: an unwavering link
Born in a tennis court, Garrett was immediately infected by the virus. "I was born with a racket in my hand. The more I played, the more I knew I wanted to stay in this environment. " Well helped by his father: "I really wanted him to fall in love with tennis, loose this one. We have courts not far from the house. As soon as I had the opportunity, I took him with his sister and we made matches. "For Greg, tennis is more than a sport, it's a real education of life:" That's a good emancipation tool to master victory, adversity, it is also a vector of meeting people: it is very important to make friends. "
Both have a protective relationship: Garrett listens religiously to his father when Greg gives him a benevolent look at his son. Complicity is felt in their laughter. "We never really argue. We talk a lot about the game, says the father before praising his son. He has a big tennis IQ. He has his own personality. He has a very good contact with people, it is the first quality of a coach.
The Patton: coaching academy
Greg has been skimming courts all over the world for more than four decades. He has accompanied for 10 years the US team at Master'U BNP Paribas. An adventure that they live together this year. Garrett is very happy. "I followed him from the United States. This time he told me to come. It's a great honor he gives me. I try to learn as a coach. I put a foot in the door. Greg justifies his choice: "He helps us. He is not here because he is my son but because he has the abilities. I want to enjoy his player experience. I think he's one of the best. "
Greg wants to pass on the witness to him: "It's my dream! He can take this team and Boise State even further. Tennis is in his DNA, his veins, his heart. He has a good influence on people ". The father sees even further for his protégé: "He is able to coach very talented young people. Go on the court with them. I can not do it anymore. He has already done it with the USTA by coaching women in pro tournament. Garrett calm his father's ardor a little with a mischievous look: "Life is full of surprises. We know what we want to do until we take a shot in the face, as Tyson would say! "
Father and son first
"The most important thing for me is to be a good father rather than a good coach." Greg knows his priorities. Beyond career goals, Garrett remains his son. When he talks about it, the 65-year-old has bright eyes: "He has a great sense of humanity. He is very kind and compassionate. I really admire the empathy he has for people. He is very popular: he has a big charisma. Always joking, Garrett retorts: "You are the pirate. He is a natural pirate! "
When tennis gives them free time, both of them like to relax with their family. But sport is never far away, as Garrett confirms. "In winter, we go skiing with the rest of the family. Otherwise, good Californian, we like to go to the beach. On the court as well as outside, the two men are inseparable. When we find Greg, Garrett is never far away. The transmission is natural.
Theo Dorangeon and Thomas Ginesta