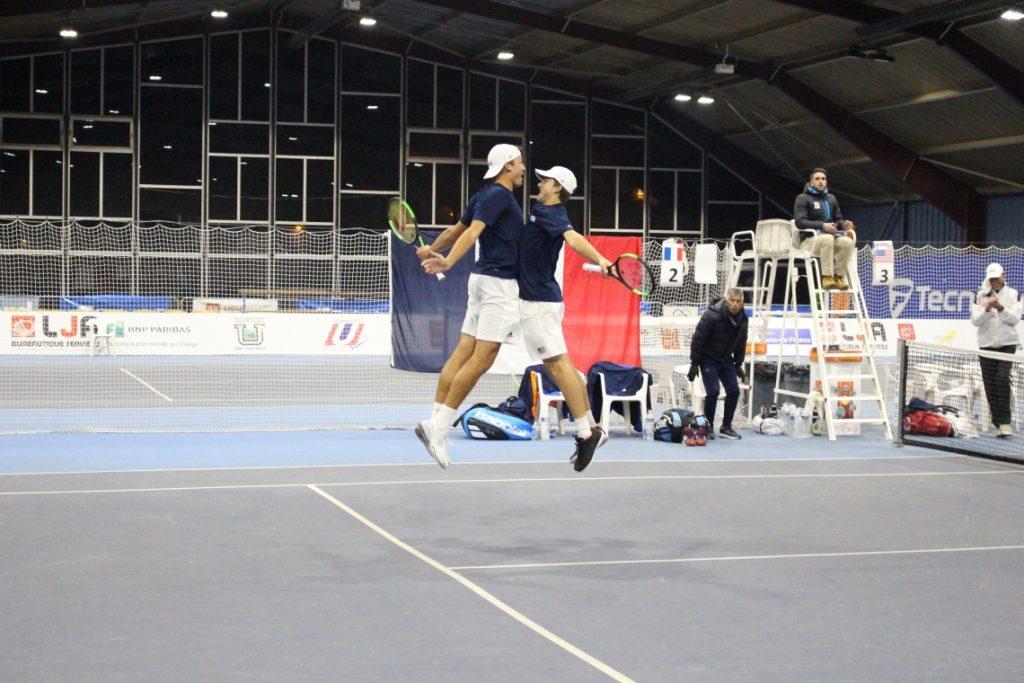 Finalist with Great Britain in this 2017 edition of the Master'U BNP Paribas, Jonathon (aka Jonny) O'Mara shows unfailing support to his family. A culture that can be explained by his attachment to team play.
The picture is fun. Jonathon O'Mara is in his match, the other members of the British team sing to cheer him on. So Jonny smiles, sets to the rhythm of the music, and sings while going to put down his briefcase. All before serving in a meeting against the Chinese Tianjia Guo he won without much training (6/2, 6/1). The scene reflects the character of the Scotsman, a temperament marked by team spirit.
When not on the court, Jonny O'Mara is in the stands, singing, encouraging his partners. "He's a great team player," said Alistair Higham. It's a real support. "I love playing as a team," said Jonny O'Mara. It's so much better than playing for yourself. When you are in a difficult situation and you have to be mentally strong, it is much easier when you have other team members behind you to encourage you. "
The double in the eye
This team spirit, the British probably holds it from his double culture. A discipline in which he wishes to specialize: "I am rather a double specialist, I started to earn more lately, he analyzes. I keep playing in singles, but I'm focused on doubles. Today, Jonny O'Mara is 154th in the ATP rankings. A place that has allowed him to participate in Wimbledon this year. "We won our first double, it was an incredible feeling," he smiled. It may be a very individual sport, but when you're with someone and you have an audience with you, you really do not feel like you won alone. "
A student in the business and economics of sport, this 22-year-old Scot is quoting the pair of brothers Andy and Jamie Murray as examples. But not necessarily the one we could believe. "It's not only Andy, there's Jamie. They come from a small town, like me, they work hard and well, and what they have done in recent years, you say why I could not do it too? Jonny O'Mara is at Stirling University, as are two other members of the British team. He sees his schedules, and will go to Florida for a training camp next week. In the program ? Double of course, with Jamie Murray in particular. "He helped me a lot, I trained a lot with him. It's good to have advice from him and Andy, "he confesses.
"It's good to be part of a team and play for other people"
In the final of Master'U BNP Paribas against the United States, Jonny O'Mara does not hide his goals. Goals he does not want to achieve alone: ​​"I want to play the Davis Cup, I want to participate in the Olympics, especially in doubles because it's good to be part of a team and play for other people "He breathes.
Teamwork gives him, and he wants to return the favor. Alistair Higham is a fan of it: "We have a group conversation on What's app, and he's always the first to answer. Winning the Master'U BNP Paribas would be an achievement. And when he thinks of this final, he admits it: "I would love to be the one who gives the final point, but in the end, no matter who gives the point of victory … But I would like it to be me (laughs) ). Whatever happens, on the bench or on the court, Jonny will sing. Alone in his corner, or in stands with others. For his partners, and also for him.
Arthur PINEAU