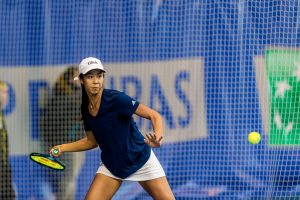 Some players of the Master'U BNP Paribas have already a great experience in tennis. Ena Shibahara, players of Team USA, is one of them. The 18 years old student of UCLA won the Girls Doubles at the US Open 2016.
Ena, last summer, you won the Girls Doubles at the US Open. How did you feel ?
It's an incredible feeling. It was exciting, i didnt sleep the night after. I was so happy. I worked hard.  It build confident.
You've also played in the main draw in doubles. What does it represent to you ?
I was very lucky. With my partner, we won a tournament which gave us a wild-card. It's a great experience. It gave us a lot of confident. It was a first look of what a Grand Slam and WTA is. There were international referees, ball kids, a lot of crowd, … It was new to me, something i didnt experienced before in regular tournament. Moreover, we played against Sania Mirza, she had a lot of fans there (laugh).
And now, you're playing here, at the Master'U in Marcq-en-Baroeul. What do you think about this tournament ?
It such an honour. I didn't think getting picked. I am only a freshmen, i only did a few tournaments. I am so happy to be choosed. When i was in UCLA, some alumnis talked to me about this tournament. All those students from all around the USA playing together is fantastic.
What about the style of the tournament mixing girls, guys, simples and doubles ?
It's a lot of fun. There is an incredible energy on the court. It's a new thing for me. I'd like to play more tournament like that…
Are you aware that you're the youngest girl in this tournament ? Is it something you think about when you come to the court ?
Really ? I didn't know. It's crazy. Yes, i think a little about it. It's an interesting challenge for me to challenge my level against experienced players.
You've already reached a final of an ITF tournament in Japan last year. At this time, you were in high school. How have you deal with such a situation ?
I was really lucky with the high school i attented. They were very supportive, and helped me reaching my dream. Being an athlete in high school with so much flexibility is rare. I am very happy.
Nicolas kohlhuber