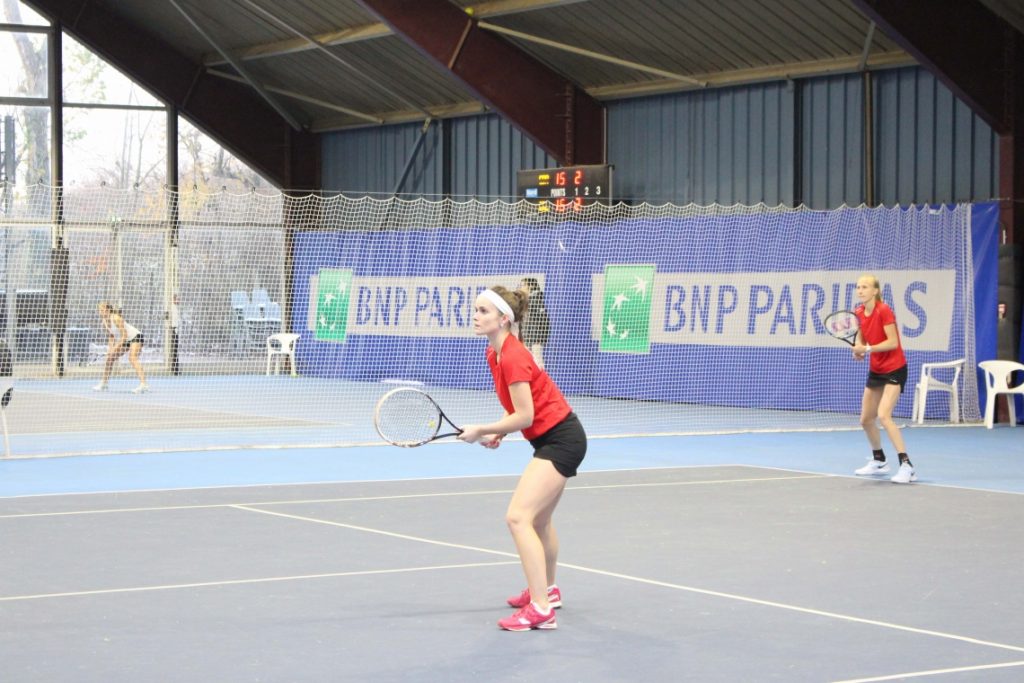 Replacing Mathilde Devits in the Belgian team, Emma Janssen studies economics at VUD University in Brussels. At 22, she brilliantly combines her two passions and perfectly embodies the university tennis player.
A racket in one hand. One book in the other. Since she began playing tennis at the age of ten, Emma Janssen has always lived to the rhythm of alternation. Between the little yellow ball and the school benches, her heart swings. Well almost. "Tennis was a passion but also a hobby," she says. Most importantly it has always been my studies. Tennis came in second. "This Sunday, after a Master'U BNP Paribas she almost did not argue (see box), Emma will swap her skirt and white bandana for courses in macro and micro economy. She got used to it. "From the age of 18, I played a lot of international tournaments but still with the studies in parallel, not only tennis, the risk is too big". Lucid, this fan of Justine Henin integrated very early the idea that she would not make tennis a full-fledged profession. "These tournaments are hard, it takes a lot of time. You leave four weeks, you miss classes, it's hard to combine the two. Around 20, I knew that I will not reach the high level.
A "Nerd" in love with tennis
Then the young Belgian begins the second set: higher education. "I started studying languages, Latin in particular. Then, I graduated in marketing in sports management ". His passion is definitely not far away. As on the court, the double player is quite talented: "I always had all my exams, I'm proud," she says. And as if that was not enough, she added a string to her sieve since the start of the season: "Marketing is very broad and I did not know exactly what I wanted to do, so I joined a master's degree in economics to complete my journey ". Emma is especially eager to learn: "I like studying, reading, understanding, I'm a little" nerd "but I think it's important for the future," she says. The future precisely she already imagines it, and always with the tennis slung: "In ten years, I would be 32 years old, I see myself with a good job, why not director marketing or communication, in Belgium on the side of Hasselt , with children, and without stopping tennis, it's good for the body, "she smiles. This would confirm that one can develop his faculties on and off the courts.
Sidebar: Replacing luxury
"I knew it for two weeks and continued to train the same way." Reservist Mathilde Devits part play a WTA tournament in Hammamet, Emma Janssen responded at short notice to join the selection. "I'm very happy to be there, we know each other well with our teammates, we're friends, there's a great atmosphere on the team," she said. In the minds of her coaches, the choice to call the TC Tessenderlo-licensed player was a natural fit, as Thomas Wissaert explained: "We always make a team with two reservists. Emma was the first and immediately answered. " Aligned in double ladies alongside Emily Casteleyn, the former Belgian number 28 lost her first two games in the super tie-break, first against Germany on Friday (4-6, 7-6 (5), 10 -5), then against France yesterday in a game without stake (8-6). "I played very well Friday and yesterday I was not at the top. But I took pleasure. I like double. We do not play much in Belgium. And playing as a team is fun. It's different from tournaments where you always play individually. It's really special. We even have supporters coming from Belgium to support us. For their last match of the weekend, Sunday, Emma Janssen and Belgium face Russia with the goal of clinching their first victory in the tournament and incidentally an honorary 7th place.
Gregory MONNOT